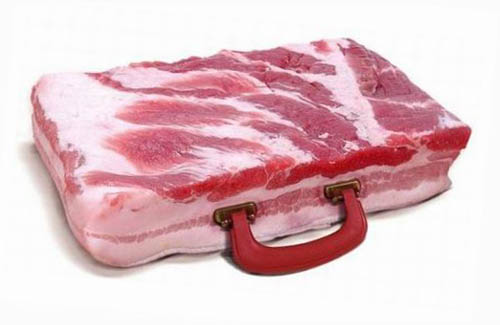 It was only a matter of time until a bacon app was created for the iPhone. In fact, it was only a matter of time until TWO iphone bacon apps were created.
So our resident bacon expert checked out both of the apps — Instant Bacon and Pocket Bacon — and can report there's no comparison between the two. But not to worry Рthere's room for both apps that make it seem as if you're cooking bacon on your iPhone.

Hands down, the Pocket Bacon app wins, as it has more options and more extras, including recipes.
But first, let's look at the runner-up, Instant Bacon, a bargain at 99 cents.
I tried this one first, and I'm glad I did. It's a very basic app, just a frying pan and bacon and the wonderful sizzle you hear when you cook the candy of meat.
You can tap on the strips of bacon to make them larger. When you shake the phone, you get a sizzle for about 10 seconds. Just like in real life, the sizzle gets louder and louder as more fat melts off the fatty strips of meat. The bacon moves around the frying pan as you tilt the phone, but no matter how much you turn the phone, the bacon doesn't slip out of the pan.

It's all animated and definitely looks like the cartoon version of cooking meat.
It's fun. For less than a buck, what do you want? Perfection in iPhone bacon app category?
OK, then, check out Pocket Bacon.
It's comparatively pricey — $1.99. But you get so much more.
First, there's the cooking surface. You have six options — three skillets (honestly, not much difference between the "scratched skillet" and the "giant skillet"), two griddles and even a microwave cooker.

Then, you can tap on the screen to add or remove slices of bacon, which look startlingly real. As you take slices away, a male voice goes, "Om nom nom nom nom nom nom nom." The sizzling sound continues the entire time the app is running. And let's be honest, half the reason you want an iPhone app that embodies the joy that is bacon is for that delicious sizzling sound. What's the point of having to shake your phone every time you want to hear it?

But then there are all the extras:
The iPhone bacon app includes links to PocketBacon.com's blog:

And recipes from the site:

And bacon-related products:

But perhaps most important of all, there's the bacon restaurant finder:

Now, the restaurant finder isn't perfect. I live in the New York metropolitan area and every diner serves up a pretty mean plate of bacon. The methodology used to determine the bacon-serving restaurants is unclear. But the concept is golden. (Or, perhaps I should say, golden brown.)

In time, the search is only going to be refined, I would presume.
This is not to say the app is perfect.
It took me a while to figure out how to change the settings and get to all these extras. It was not immediately apparent and I found it quite by accident. In addition, it's not very easy to get the settings bar to appear, especially if you're in any of the RSS feeds, such as the recipes.

But if you're a fan of bacon and you just have to have a way to get the sizzling sounds in your pocket, you have options. Given that the most you're going to be out is $1.99, it would seem to be a no-brainer to buy Pocket Bacon. But if you just want a quickie and don't need all the fancy extras, you'll still enjoy Instant Bacon, for a mere 99 cents.

To top it all, check out iPhone bacon case: Everything's Better With Bacon